Curriculum Vitae
Email | Telegram | GitHub | Twitter | LinkedIn
My name is Manu De Buck. I was born in 1999, in Ghent. I am a Computer Science Engineer living in Belgium. My main interest is Artificial Intelligence, especially when used (in the) right (situation). My focus is on well-structured and thoughtful code, as I think quality always dominates quantity. I love to keep learning about new stuff and I am always open for a constructive discussion. In my free time I love to listen and play music, play a videogame or go for a run.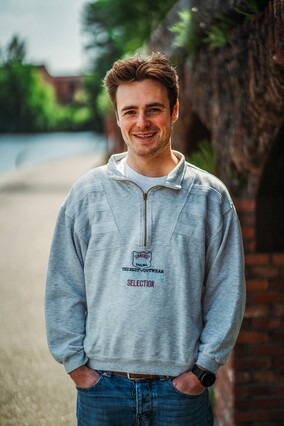 Work Experience
---
2022 - present | Computer Science Engineer & Co-Founder
---
we are is an experienced and dynamic company based in Ghent, focusing on providing custom software solutions to SMEs and startups in various sectors. Our team consists of experienced software engineers who have expertise in various technologies and are constantly striving for quality and technological solutions that really help move the world forward.
We strive to help our customers achieve their goals through technology. We do this by providing professional advice, developing custom software solutions, and guiding businesses in their digital transformation. We always start from the philosophy that the focus for a technological product should be on the end user.
To prepare your technology for tomorrow, you can't work like you did yesterday.
---
2019 - 2022 | Computer Science Engineer
---
At Metios, a company I founded, I provide professional IT Consultancy for businesses and individuals. Metios also assists in the creation of different other projects from various companies.
---
2020 - 2022 | Software Engineer
---
Journy.io gathers customer intelligence from across SaaS platforms, websites and connected tech stacks. This drives product-led customer acquisition, expansion and retention, at scale.
At journy.io I worked as a software engineer, mainly focused on the API of the product and the Python, PHP and Node.js APK's thereof.
---
summer 2019 | Software Engineer
---
I migrated several services to a new server architecture and aided in the creation of several tools to enable one to quickly write and run integration tests on linked-data query engines such as the Comunica query engine. To facilitate this I authored a linked data ontology.
Education
---
2020 - 2022 | Ghent University
---
Major: Artificial intelligence
Grade: magna cum laude
Thesis: Using Machine and Deep learning techniques on the EEG of GEFS+ patients to gain insights into their pathology
---
2017 - 2020 | Ghent University
---
Minor: Electronics and Telecommunication
Grade: magna cum laude
Non-Profit
---
2023 - present | Board of Directors
2022 - 2023 | Crew Lead IT
2021 - 2022 | Coordinator Site Management
2020 - 2021 | Coordinator Mobility
2019 - 2020 | Crew Lead Site & Safety
---
Together with a (large) team of enthusiastic students we build the biggest one-day festival of Belgium, literally 'kicking-off' the start of the new academic year. Each year we are happy to welcome incredible artists and an average of 22,000 visitors.
Unfortunately, in 2021 we had to cancel our event due to SARS-CoV-2. The next year, in 2022 I had the opportunity to become Coordinator Site Management, the right hand of the Team Lead Site & Safety. Our team is responsible to construct all structures on the terrain as well as their safety. We also make sure that all electrical devices are connected to the power net and do all communication with the city of Ghent and first aid services.
---
2019 - present | Volunteer
---
CoderDojo aims to encourage young scientists (between 7 and 18 years) to explore the wonderful world of computer sciences and technology. Using a bunch of cool games, exercises and activities they are stimulated to think and code like a computer scientist.
---
2019 - 2020 | Team Lead Site & Safety
2018 - 2019 | Crew Lead Site & Safety
---
At 12 Urenloop a team of students creates a sportive event where student corps compete to run the most laps during 12 hours. In the evening we organise a festival to end this wonderful day.
In 2019-2020 I got the opportunity to lead the Site & Safety team (which is responsible for everything on-terrain), but due to SARS-CoV-2 we had to cancel the event a few weeks on beforehand.